Agenda
No event in the calendar
Partners news
Fondamental : 2ème journée mondiale des troubles bipolaires
La fondation Fondamental est le partenaire principal de la 2ème journée mondiale des troubles bipolaires, organisée le 30 mars 2016 par l'Association Argos 2001, et à laquelle s'associe également le Labex Bio-Psy.
Découvrez le programme
Conférences cycle 2015-2016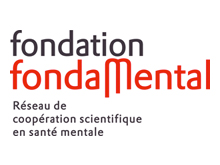 The program of the new conference cycle organized by Fondamental is available on line : Program 2015-2016
Conferences take place at the indicated dates, at 12:00 am; Hôpital Albert Chenevier - Pôle de Psychiatrie
News
Appel à candidatures 2018 Postes d'accueil pour cliniciens
Details

Category: Prochains évènements

Comme chaque année, le Labex s'associe à l'AP-HP et à ses partenaires pour permettre à des cliniciens (internes, CCA et AHU d'une part , PH et PHC d'autre part) de rejoindre l'une de ses équipes et développer un projet de recherche.
Vous trouverez ici et ici ci-joint les deux appels à candidatures et les dossiers à remplir.

Attention : contacter This email address is being protected from spambots. You need JavaScript enabled to view it. dans tous les cas si vous êtes intéressés.
Date limite des candidatures : 5 Mars 2018
Appel à candidatures 2018 4ème année de thèse
Details

Category: Prochains évènements

Bio-Psy lance un nouvel Appel à candidatures en 2018 pour des financements de 4ème année de thèse.
Date limite pour l'envoi des candidatures : 23 Avril 2018
Appel à projets collaboratifs 2017 : résultats
Details

Category: Prochains évènements
Le Labex Bio-Psy lance son dernier Appel à projets collaboratifs, ouvert à toutes les équipes du Labex

et aux équipes partenaires des Centres Experts.

Les demandes devront être transmises par mail avant le 27 Février 2017 à This email address is being protected from spambots. You need JavaScript enabled to view it..

Retrouvez le texte de l'Appel à Projets 2017 et le formulaire à remplir.

Résultats

20 propositions ont été reçues et évaluées par un panel constitué de 16 experts français et internationaux, auprès desquels ont été répartis les demandes. Un classement a été établi sur la base de ces évaluations. Sept projets ont été retenus.
La nicotine et le cerveau des schizophrènes
Details

Parent Category:

Résultats

Category: Faits marquants

L'équipe d'Uwe Maskos, à l'Institut Pasteur, en collaboration avec des chercheurs du CNRS, de l'Inserm et de l'ENS est parvenue à décrypter grâce à un modèle murin, le mode d'action de la nicotine sur les cellules du cortex préfrontal. Ils ont pu visualiser l'effet direct de la nicotine sur le rétablissement de l'activité normale des cellules nerveuses impliquées dans les troubles psychiatriques, comme la schizophrénie. Ces résultats sont parus dans Nature Medicine, le 23 janvier 2017.
Nicotine reverses hypofrontality in animal models of addiction and schizophrenia,
Nature Medicine,
Fani Koukouli, Marie Rooy, Dimitrios Tziotis, Kurt A. Sailor, Heidi C. O'Neill, Josien Levenga, Mirko Witte, Michael Nilges,
Jean-Pierre Changeux, Charles A. Hoeffer, Jerry A. Stitzel, Boris S. Gutkin, David A. DiGregorio & Uwe Maskos.


Le travail a été en partie financé par le Labex Bio-Psy.

Colloque 'Cognition et Psychiatrie"
Details

Parent Category:

Formation et animation

Category: Séminaires / Colloques
Le Labex Bio-Psy et l'ICM organisent un Symposium international 
consacré aux liens entre la cognition et les troubles psychiatriques,
les 1 et 2 Février 2017 à Paris.
Consulter le Programme
Condtions d'inscription : les inscriptions sont closes le 26 janvier.




The Labex Bio-Psy
Details

Parent Category:

Le LabEx

Category: Présentation

The Labex Bio-Psy (Laboratory of excellence of Biology for Psychiatry) is a French network created and funded through the "Investissements d'Avenir" Program. Bio-Psy gathers psychiatrists, neuroscientists and geneticists whose common goal is to study the biological mechanisms underlying psychiatric diseases in order to improve their diagnosis and treatments to the benefit of the patients and their environment.