Agenda
No event in the calendar
Partners news
Fondamental : 2ème journée mondiale des troubles bipolaires
La fondation Fondamental est le partenaire principal de la 2ème journée mondiale des troubles bipolaires, organisée le 30 mars 2016 par l'Association Argos 2001, et à laquelle s'associe également le Labex Bio-Psy.
Découvrez le programme
Conférences cycle 2015-2016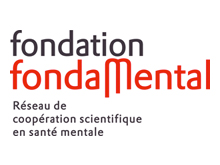 The program of the new conference cycle organized by Fondamental is available on line : Program 2015-2016
Conferences take place at the indicated dates, at 12:00 am; Hôpital Albert Chenevier - Pôle de Psychiatrie
Home

>

The LabEx

>

Presentation
Presentation
The Labex Bio-Psy
Details

Parent Category:

Le LabEx

Category: Présentation

The Labex Bio-Psy (Laboratory of excellence of Biology for Psychiatry) is a French network created and funded through the "Investissements d'Avenir" Program. Bio-Psy gathers psychiatrists, neuroscientists and geneticists whose common goal is to study the biological mechanisms underlying psychiatric diseases in order to improve their diagnosis and treatments to the benefit of the patients and their environment.