Agenda
No event in the calendar
Partners news
Fondamental : 2ème journée mondiale des troubles bipolaires
La fondation Fondamental est le partenaire principal de la 2ème journée mondiale des troubles bipolaires, organisée le 30 mars 2016 par l'Association Argos 2001, et à laquelle s'associe également le Labex Bio-Psy.
Découvrez le programme
Conférences cycle 2015-2016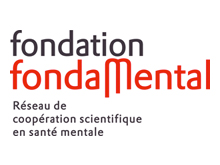 The program of the new conference cycle organized by Fondamental is available on line : Program 2015-2016
Conferences take place at the indicated dates, at 12:00 am; Hôpital Albert Chenevier - Pôle de Psychiatrie
Mentions légales
Site Internet du LabEx BIO-PSY
Details

Category: Mentions légales
www.biopsy.fr est le site officiel du LabEx BIO-PSY.
LabEx BIO-PSY - Institut du Fer à Moulin
17 rue du Fer à Moulin
75005 Paris
Tél. : 01 45 87 61 56
Courriel : This email address is being protected from spambots. You need JavaScript enabled to view it.
Directeur de publication : Jean-Antoine Girault
Directeur de la rédaction : Brigitte Bouchard
Site conçu et réalisé par e-Mages Créations
e-Mages Créations
114 Grande Rue
91360 Epinay-sur-Orge
Tél. : 06 98 28 17 62
www.emagescreations.com
Les informations publiées sont régulièrement vérifiées. Le LabEx BIO-PSY décline toute responsabilité en cas d'erreur ou d'omission. Pour signaler une erreur ou demander la rectification d'informations, contactez le LabEx BIO-PSY - Tél. : 01 45 87 61 56 ou This email address is being protected from spambots. You need JavaScript enabled to view it.
Droits d'auteur et crédits photographiques
Les droits de l'auteur de ce site sont réservés pour toute forme d'utilisation. En particulier, la reproduction des éléments graphiques du site, le téléchargement complet ou partiel du site pour son enregistrement sur un support de diffusion. Toute utilisation des visuels, documents et textes qu'il contient, autre que la consultation individuelle et privée, est interdite sans autorisation préalable et écrite.