Agenda
No event in the calendar
Partners news
Fondamental : 2ème journée mondiale des troubles bipolaires
La fondation Fondamental est le partenaire principal de la 2ème journée mondiale des troubles bipolaires, organisée le 30 mars 2016 par l'Association Argos 2001, et à laquelle s'associe également le Labex Bio-Psy.
Découvrez le programme
Conférences cycle 2015-2016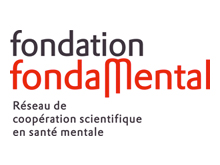 The program of the new conference cycle organized by Fondamental is available on line : Program 2015-2016
Conferences take place at the indicated dates, at 12:00 am; Hôpital Albert Chenevier - Pôle de Psychiatrie
Home

>

Governance

>

Executive Board
Executive Board
The Executive Board
Details

Parent Category:

Gouvernance

Category: Comité de Direction
Responsible for the general scientific strategy, the members are :
Jean-Antoine Girault (DRE Inserm, Director of inserm U 839, Institut du Fer à Moulin, IFM): Labex Director)
Marion Leboyer (PU-PH, Hôpital Chenevier-Mondor Créteil, Head of Psychiatry service, Director of Fondamental Foundation): Labex Vice-Director for translational research,. In charge of interactions with clinical teams and with PsyCoh « Cohort of excellence »
Patricia Gaspar (DR1 Inserm, team leader at the IFM. Labex Vice-Director in charge of for teaching and training programs and of actions contributing to Bio-Psy's visibility and attractivity, in cooperation with the ENP
Brigitte Bouchard (DR2 Inserm): Labex Executive director. In charge of implementing the Labex actions and of interactions with institutional partners (Idex SUPER , UPMC, Inserm, CNRS, AP-HP, etc.).