Agenda
No event in the calendar
Partners news
Fondamental : 2ème journée mondiale des troubles bipolaires
La fondation Fondamental est le partenaire principal de la 2ème journée mondiale des troubles bipolaires, organisée le 30 mars 2016 par l'Association Argos 2001, et à laquelle s'associe également le Labex Bio-Psy.
Découvrez le programme
Conférences cycle 2015-2016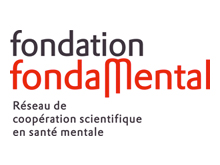 The program of the new conference cycle organized by Fondamental is available on line : Program 2015-2016
Conferences take place at the indicated dates, at 12:00 am; Hôpital Albert Chenevier - Pôle de Psychiatrie
Home

>

Governance

>

Scientific Advisory Board
Scientific Advisory Board
The Scientific Advisory Board
Details

Parent Category:

Gouvernance

Category: Conseil Scientifique
Bio-Psy's scientific advisory board (SAB) will be joint with the SAB for the FondaMental Foundation, since both are are tightly linked and aim to synergize their activities for improving clinical and basic research in Psychiatry. The SAB will include 4 members for FondaMental, and 2 additional members with strong expertise in basic Neuroscience who will complete the Board specifically for the advice to the Labex. The SAB will convene once a year.
The SAB will evaluate past and ongoing activities, as well as future plans and, when needed, evaluation and ranking of potential applications in response to calls organized by either the Foundation or the Labex.