Agenda
No event in the calendar
Partners news
Fondamental : 2ème journée mondiale des troubles bipolaires
La fondation Fondamental est le partenaire principal de la 2ème journée mondiale des troubles bipolaires, organisée le 30 mars 2016 par l'Association Argos 2001, et à laquelle s'associe également le Labex Bio-Psy.
Découvrez le programme
Conférences cycle 2015-2016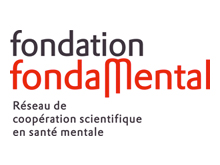 The program of the new conference cycle organized by Fondamental is available on line : Program 2015-2016
Conferences take place at the indicated dates, at 12:00 am; Hôpital Albert Chenevier - Pôle de Psychiatrie
Home

>

Research

>

Strategic axes
Strategic axes
Strategic axes of the LabEx Bio-Psy
Details

Parent Category:

Recherche

Category: Axes stratégiques
Bio-Psy's Steering Committee engaged a collective reflection in order to define the optimal strategy to benefit as much as possible from the strengths of the partner teams. The aim was to define Bio-Psy priorities, while maintaining the long-term objectives described above.
The following priorities have been identified :
Mood disorders, including depression and bipolar disorders (8 groups with major interest, 6 groups with minor interest)
Addiction (6 groups with major interest, 3 groups with minor interest)
Autism and ASD (5 groups with major interest, 3 groups with minor interest)
In parallel, bio-Psy aims to encourage projects benefiting from transversal expertise, around the following themes :
Motivation and Reward
Cortical development
And to develop projects in the following areas :
Immunity-inflammation
iPSCs
Economy
Additionally, the organization of the program in the 5 axes presented above (brain development, transmission and signalling, circuits and plasticity, genes x environment, and psychiatry and society) is formally maintained, since the priorities generally include components in the 5 axes.