Agenda
No event in the calendar
Partners news
Fondamental : 2ème journée mondiale des troubles bipolaires
La fondation Fondamental est le partenaire principal de la 2ème journée mondiale des troubles bipolaires, organisée le 30 mars 2016 par l'Association Argos 2001, et à laquelle s'associe également le Labex Bio-Psy.
Découvrez le programme
Conférences cycle 2015-2016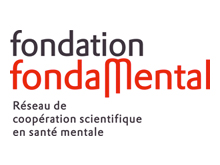 The program of the new conference cycle organized by Fondamental is available on line : Program 2015-2016
Conferences take place at the indicated dates, at 12:00 am; Hôpital Albert Chenevier - Pôle de Psychiatrie
Home

>

Internal Calls

>

2015
2015
Research Positions for clinicians
Details

Parent Category:

Appels à propositions

Category: 2015
Since 2013, Bio-Psy is joining the AP-HP and other partners to encourage clinicians interested in translational research in psychiatry. the call is targeted towards "Chefs de Cliniques associés", Interns and "Assistants Hospitalaux-Universitaires", as well as "PH". The call is launched every year and allows selected candidates to develop original projects in one of Bio-Psy partner teams (see Bio-Psy teams).
For details and conditions applying : Postes d'accueil 2015

New internal calls
Details

Parent Category:

Appels à propositions

Category: 2015
Bio-Psy is launching three new calls proposing fellowships to young scientists interested in pursuing projects in psychiatry research.
- One call to offer complementary funding to students in the 4th year of their PhD, to complete promising on-going projects from the Bio-Psy Labex partner teams.
- One call offering post-doctoral positions to attract young talented international scientists having recently completed their PhD (one to three years)
- One call offering doctoral fellowships (3 years under conditions)

Results of internal calls 2015
Details

Parent Category:

Appels à propositions

Category: 2015
See the lists of selected candidates :
- Laureates 4th year Thesis
- Laureates doctoral fellowships
- Laureates post-docs